Rolling Stone
Rolling Stone featured our "live" Dreams of the Last Butterflies performance at the Burning Man event:  Photographed by Scott London on assignment from Rolling Stone.
See Dreams of the Last Butterflies on Rolling Stone
Ain't It Cool News
"Director Zina Brown has made something rather beautiful and unlike anything I've really seen before." (Saturday Shorts Pick)
Saving Species
We are very honored and excited to announce our partnership with groundbreaking conservation organization SavingSpecies.
This new partnership allows Dreams of the Last Butterflies to be one of the first carbon-neutral films made and produced in NYC, while raising awareness of conservation needs.
Art and science are teaming up to help save butterflies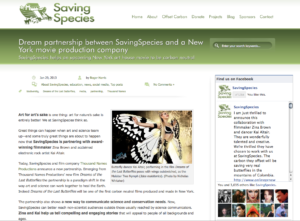 The Xerces Society for Invertebrate Conservation
"A strikingly beautiful video with a Lorax-like message: human greed is destroying butterflies, it's up to us to make the changes necessary for them to survive."
Buglife – The Invertebrate Conservation Trust
"A beautiful short film on the plight of butterflies."
Film Shortage
"Dreams of the Last Butterflies is absolutely magical!" (Daily Shorts Pick)
Jakarta Film Reporter
Director Zina Brown was interviewed by the Jakarta Film Reporter about our Best Film win in Indonesia:
"Zina Brown – A Passionate Filmmaker"
Kuriositas
"This almost defies definition but Dreams of the Last Butterflies is certainly this – something very special. Combining poetry, song, dance, and flame throwing among other things, this performance-film had me spellbound from start to finish." (Link)
Miroir Magazine
International arts and fashion publication Miroir Magazine featured Dreams of the Last Butterflies with a multi-page spread, and interviewed Director Zina Brown.
"New York film director Zina Brown creates mesmerizing film masterpieces." See the full article here.